Chiang Mai Province, nestled in the northern region of Thailand, proudly holds the title of being the tourism capital of the area. Renowned for its diverse array of attractions, encompassing natural wonders, rich cultural heritage, and fascinating historical sites, the province offers a delightful experience for every kind of traveler. Beyond its captivating destinations, Chiang Mai also boasts a welcoming community and a sustainable environment, further enhancing its appeal to visitors from around the globe. Chiang Mai's allure extends beyond its attractions. The warm and welcoming local community embraces visitors, ensuring a heartwarming experience for anyone who ventures here. Moreover, the province's commitment to sustainability and preserving its natural beauty enhances the overall travel experience, making it a responsible and mindful choice for travelers.
Throughout the year, Chiang Mai remains abuzz with a diverse range of tourist activities. From luxurious hotels that pamper their guests to a vibrant culinary scene serving up authentic Thai delicacies, the city caters to every taste and budget. After dusk, the nightlife comes alive with entertainment venues, cultural performances, and bustling night markets that add to the city's charm. In conclusion, Chiang Mai Province stands as a beacon of Thailand's northern tourism. With its captivating blend of natural splendors, cultural richness, historical significance, and a thriving community, the region offers an unforgettable experience for all who venture here. Whether it's exploring ancient temples, indulging in mouthwatering delicacies, or simply basking in the serenity of its landscapes, Chiang Mai promises an enriching and rewarding journey for travelers seeking an authentic Thai adventure.
Ban Tha Ton / Wat Tha Ton Temple:
Nestled in the enchanting Mae Ai District of Chiang Mai Province, Ban Tha Ton Village exudes an irresistible charm as it sits adjacent to the Myanmar border. This quaint border village boasts a mesmerizing setting, surrounded by majestic mountains and blessed with a meandering river that gracefully flows through its heart. What sets Ban Tha Ton apart is its pleasantly cool weather, which graces the village almost all year round, creating a serene and inviting atmosphere that leaves a lasting impression on every visitor. As tourists venture into Ban Tha Ton, they are greeted by not only the breathtaking natural beauty but also the vibrant tapestry of culture and traditions of the multi-ethnic hill tribe communities residing in the vicinity. It offers an exceptional opportunity for travelers to fully immerse themselves in the authentic customs and way of life of these diverse hill tribes. A major highlight of the village is the renowned Wat Tha Ton temple, perched gracefully on the hillside. The temple treats visitors to a spectacular panoramic view as it is strategically situated on an extended area comprising nine layers. Each layer features sacred religious shrines enshrined at every peak, with the central peak being the highest and home to the revered "Phra Borommathat Ratchamangkalachan Samanchan" or "Phra Chedi Kaew." From these elevated vantage points, visitors are treated to mesmerizing vistas of Ban Tha Ton Village's natural beauty, the sprawling landscape of Mae Ai District, and the surrounding mountains. With its stunning landscapes, rich cultural experiences, and the captivating allure of Wat Tha Ton temple, Ban Tha Ton Village beckons to all those who seek an enchanting escape into the heart of Northern Thailand's picturesque and culturally diverse region.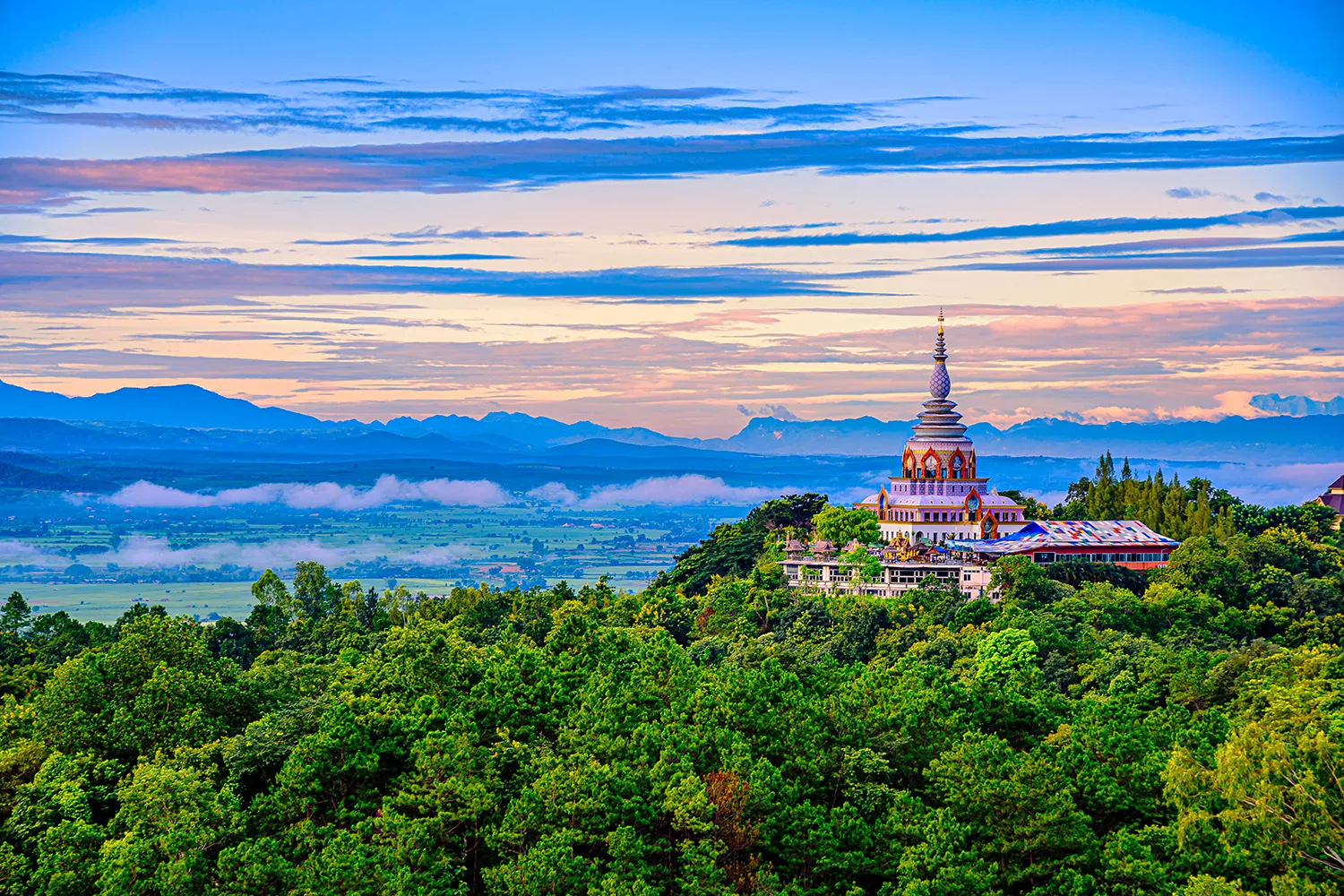 Mork Fah Waterfall:
Mork Fah Waterfall, situated in the breathtaking Doi Suthep-Pui National Park, finds its home in Sop Poeng Sub District, Mae Taeng District, Chiang Mai Province. While it may not boast great height, this single-tiered waterfall offers a year-round spectacle of flowing water, making it a charming and consistent attraction for visitors. Emerging from the heart of the dense forest, a stream gracefully gives birth to Mork Fah Waterfall. As the stream descends, it elegantly splits into two streams, cascading down the rocky cliff below. The surrounding area is blanketed by a lush canopy of majestic trees and an array of mosses and ferns, contributing to a refreshing and cool ambiance, courtesy of the waterfall's mist. For travelers seeking the best experience, the winter season proves ideal, as the water becomes crystal clear, inviting tourists to take a dip in the inviting pool below. In the morning light, the sun's rays create a dazzling spectacle as they reflect upon the glistening water, casting a mesmerizing rainbow over the scene. During the autumn season, the waterfall takes on a different character, exuding a tranquil and inviting atmosphere that complements the lush surroundings. Even in the rainy season, Mork Fah Waterfall remains equally captivating. The stream flows with increased vigor, generating a thunderous symphony as it impacts the rocky cliffs and the pool below. The misty spray gracefully dances throughout the area, lending the backdrop of the waterfall its evocative name – the "white mist." No matter the season, Mork Fah Waterfall charms visitors with its natural beauty and serene setting. Whether one seeks the shimmering rainbow hues of the winter or the raw power and enchantment of the rainy season, this scenic waterfall promises a captivating and unforgettable experience within the embrace of nature's wonders.
Pa Pae Hot Spring (Pong Duet Geyser):
Located in the serene landscapes of Pa Pae Sub District, Mae Taeng District, Chiang Mai Province, Pa Pae Hot Spring, also known as Pong Duet Geyser, stands as an impressive natural wonder. This hot spring is the largest of its kind, taking the form of a geyser with characteristic periodic steam rises. Towering at an estimated height of 1-2 meters, it is a captivating sight to behold. Pa Pae Hot Spring is an underground hot spring, and its waters maintain a scorching temperature between 170 and 200 degrees Celsius beneath the surface. As it emerges, the water still retains a considerable heat, ranging between 90 and 100 degrees Celsius. The distinct aroma of sulfur permeates the air, a constant reminder of the spring's unique presence. The hot spring area is adorned with four large ponds and several smaller ones, scattered around like natural pools for visitors to enjoy. Encircled by lush jungle, the location offers an opportunity for nature enthusiasts to embark on an approximately 1.5 km-long route, ideal for exploring the rich flora and fauna of the region. This nature trail weaves through dense forests, towering trees, and beautiful ferns and mosses that line the path, creating a picturesque setting for an immersive experience. A notable feature of the route is a lengthy bridge that stretches along its entirety, adding to the charm of the journey. Informational signboards dot the way, providing valuable insights into the Pa Pae hot spring and enlightening visitors about the various plant species they encounter along the trail. Pa Pae Hot Spring presents a delightful blend of natural marvels, offering not only a captivating geyser display but also a rewarding nature walk through the enchanting surroundings. For those seeking an enriching and tranquil escapade into the heart of Chiang Mai's natural beauty, Pa Pae Hot Spring proves to be a truly unforgettable destination.
Doi Ang Khang / Ang Khang Royal Agricultural Station:
Doi Ang Khang, nestled in the picturesque landscapes of Mae Ngon Sub District, Fang District, Chiang Mai Province, is a beloved destination for both Thai and foreign visitors alike. This enchanting hill station offers a delightful escape for those seeking cooler climates, vibrant flower beds, and a glimpse of winter vegetables. The panoramic views of sunrise and sea of mist add to the allure of this mountainous retreat. Beyond its natural beauty, Doi Ang Khang provides a unique opportunity to immerse oneself in the diverse way of life of the hill tribe people residing in the region. A visit to Doi Ang Khang during January is particularly special, as it grants the chance to witness the spectacular blooming of the Phaya Sua Krong flowers, also known as Thailand's cherry blossoms, blanketing the mountain in a breathtaking display of colors.
The centerpiece of any trip to Doi Ang Khang is the esteemed Royal Agricultural Station Ang Khang, established in 1969 under the royal initiative of His Majesty King Bhumibol Adulyadej. The station was founded with the noble purpose of encouraging hill tribe communities to transition from opium cultivation to sustainable switch agriculture. By offering research and development facilities for subtropical and tropical plant studies, the station aims to provide hill tribe residents with opium substitute products, thus contributing to the conservation of the country's forests and watersheds. Tourists have the opportunity to visit the Royal Agricultural Station Ang Khang by driving their own cars or utilizing the station's convenient tram service. A modest fee of 50 baht per person and 50 baht per vehicle allows entry to this valuable and transformative project. Doi Ang Khang stands as a harmonious blend of natural beauty, cultural diversity, and sustainable initiatives. It is a destination where visitors can not only revel in the charm of flower-adorned landscapes but also witness the positive impact of the Royal Project in uplifting the lives of hill tribe communities and preserving the region's ecological treasures.
Queen Sirikit Botanic Garden:
Queen Sirikit Botanic Garden is a renowned botanical garden located in the Mae Rim District of Chiang Mai Province, Thailand. Named after Her Majesty Queen Sirikit, the garden serves as a testament to her passion for nature and dedication to environmental conservation. Spanning a vast area of approximately 1,000 acres, the Queen Sirikit Botanic Garden is a treasure trove of diverse flora and fauna, making it a paradise for plant enthusiasts and nature lovers alike. Established in 1992, the garden's primary goal is to promote research, education, and the conservation of plant species, especially those native to Thailand and the Southeast Asian region. It also aims to raise awareness about the importance of preserving biodiversity and the vital role that plants play in maintaining ecological balance. The Queen Sirikit Botanic Garden is divided into various sections, each showcasing unique plant collections and habitats.
One of the highlights is the Glasshouse Complex, which features a range of climate-controlled glasshouses representing different ecosystems, from tropical rainforests to alpine regions. Visitors can journey through these environments and observe a fascinating array of plant species from diverse habitats. Another captivating attraction within the garden is the Arboretum, which boasts an impressive collection of trees and woody plants. Nature trails wind through this section, allowing visitors to immerse themselves in the beauty of nature while learning about various tree species and their ecological significance. Apart from the diverse plant life, the garden's landscape design offers breathtaking views of the surrounding mountains, creating a tranquil and picturesque setting for visitors to enjoy. Queen Sirikit Botanic Garden is not only a place of botanical wonder but also a hub for research and conservation efforts. Its commitment to sustainability and environmental education makes it an essential destination for those seeking to appreciate the splendor of Thailand's native flora and learn about the vital role of plants in our world.
Khun Chang Khian:
Khun Chang Khian, also known as Ban Khun Chang Khian, is a quaint and charming village located in the Mae Rim District of Chiang Mai Province, Thailand. Nestled amidst the lush landscapes of northern Thailand, this village is renowned for its picturesque beauty and cultural significance. Khun Chang Khian has gained popularity among travelers for several reasons. One of its main attractions is the beautiful flower fields that surround the village, particularly the vibrant terraced fields of Chrysanthemums. These stunning blooms paint the landscape with a burst of colors, offering a mesmerizing sight for visitors, especially during the blooming season. The village is also famous for its efforts in promoting sustainable farming practices. Local communities here have embraced the concept of organic farming, which not only ensures the production of fresh and healthy produce but also contributes to the preservation of the region's natural biodiversity. In addition to the picturesque scenery and agricultural pursuits, Khun Chang Khian is known for its close proximity to the Doi Suthep-Pui National Park. This national park is home to Doi Pui, one of the highest peaks in the region, and Doi Suthep, a famous temple perched atop the mountain, offering panoramic views of Chiang Mai city. Khun Chang Khian is a unique destination that allows travelers to experience the tranquility of rural life, explore beautiful flower fields, and connect with nature through its proximity to the national park. It's a perfect place for those seeking an authentic and enriching experience of northern Thailand's cultural and natural wonders.
Mon Jam:
Mon Jam, also known as Mon Cham, is a charming and scenic hilltop village located in the Mae Rim District of Chiang Mai Province, Thailand. Perched atop a hill, Mon Jam offers breathtaking panoramic views of the surrounding landscapes, making it a popular destination for both locals and tourists seeking a serene and picturesque escape. One of the main draws of Mon Jam is its cool climate, especially during the winter months. The village's higher elevation ensures a refreshing and pleasant atmosphere, providing relief from the heat that is characteristic of many other parts of Thailand. Visitors to Mon Jam are greeted with picturesque flower gardens and vegetable fields that add to the village's allure. The terraced gardens are a delight to explore, adorned with colorful flowers, especially during the blooming season, which creates a magical and vibrant ambiance.
In addition to the stunning natural beauty, Mon Jam also offers various outdoor activities and attractions. Trekking and hiking trails wind through the lush hills, allowing travelers to immerse themselves in the beauty of nature and enjoy breathtaking views along the way. There are also ziplining opportunities and scenic viewpoints, providing thrilling experiences for adventure enthusiasts. Moreover, Mon Jam offers a selection of charming hillside resorts and restaurants where visitors can relax and savor delicious Thai cuisine while enjoying the tranquil surroundings and stunning vistas. Overall, Mon Jam is a hidden gem in Chiang Mai, offering visitors a peaceful retreat and a chance to experience the beauty of northern Thailand's landscapes and culture. Whether it's strolling through flower gardens, trekking along scenic trails, or simply admiring the panoramic views, Mon Jam promises an unforgettable and enriching journey for all who venture to this enchanting hilltop village.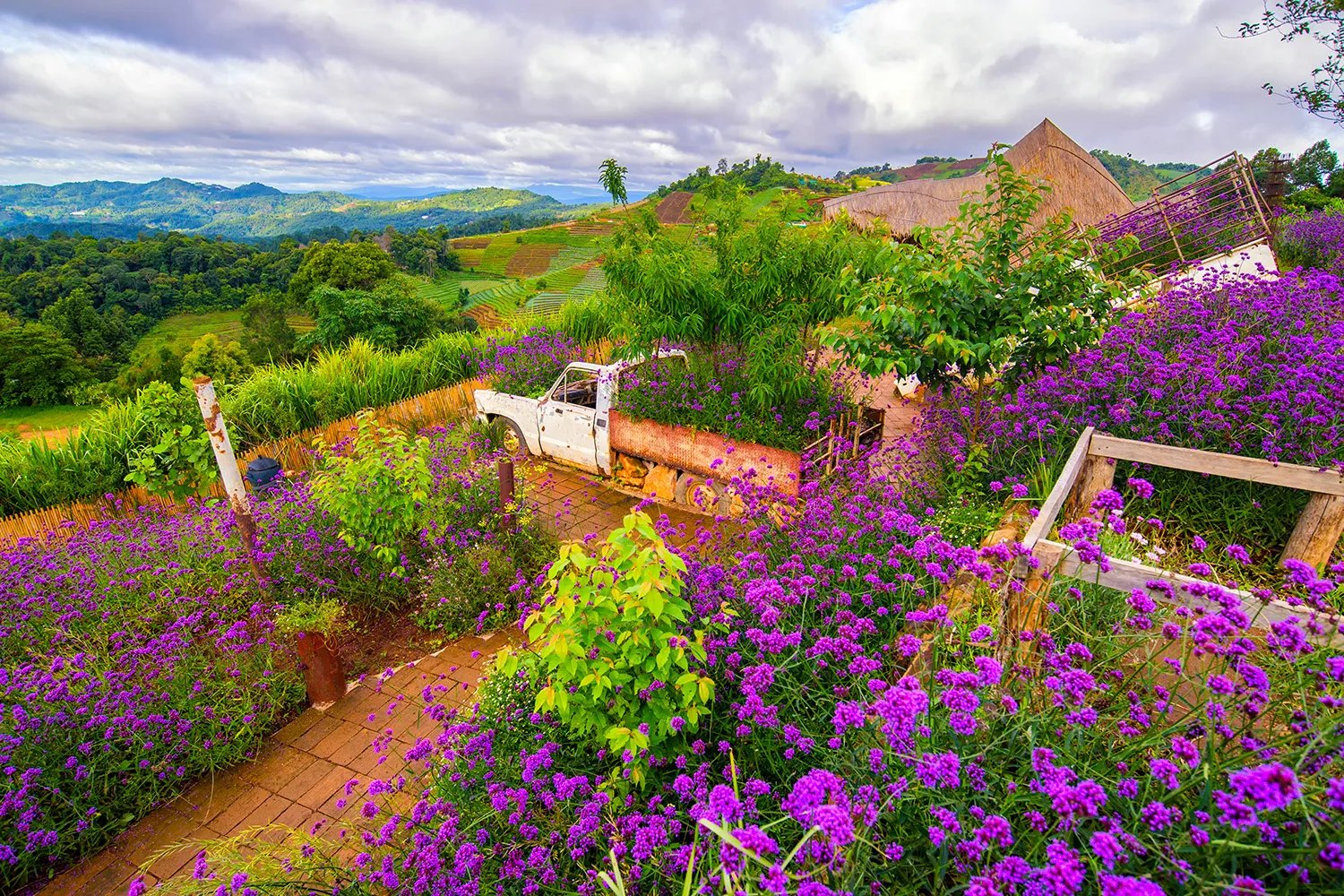 Pha Chor:
Pha Chor, located within Mae Wang National Park, in Santi Suk Sub District, Doi Lo District, is undeniably one of Chiang Mai's most captivating and intriguing attractions. This awe-inspiring natural wonder allows visitors to immerse themselves in the grandeur and splendor of Mother Nature's artistic prowess. The landscape of Pha Chor is an extraordinary sight to behold, with its tall monoliths and walls that have been sculpted over millions of years by the forces of land subsidence and erosion caused by wind and rain. The result is a stunning geological formation that leaves onlookers in awe of nature's creative prowess. It is often referred to as the "Grand Canyon of Thailand" due to its remarkable resemblance to the iconic Grand Canyon in the United States. Pha Chor's peculiar and unique features make it a favorite spot for nature enthusiasts and adventurers alike. The opportunity to explore the walking trails amidst the surrounding forest further enhances the experience. Notably, a must-visit attraction in conjunction with Pha Chor is "Kew Suea Ten," a natural sculpture similar to Pha Chor, located about a kilometer away. This equally impressive site promises an extraordinary journey into the marvels of nature's artistry. Visiting Pha Chor offers an unforgettable experience of Thailand's natural beauty and showcases the country's diverse and remarkable landscapes. As visitors venture through the paths and encounter the mesmerizing rock formations, they are sure to be filled with wonder and appreciation for the remarkable artistry of the earth.
Royal Park Rajapruek:
Royal Park Rajapruek is a stunning botanical garden and exhibition center located in Chiang Mai, Thailand. The park showcases an impressive collection of plants and flowers from Thailand and around the world. The park covers a vast area of approximately 200 acres and is divided into several themed zones, each representing different aspects of Thai culture and horticulture. One of the main attractions is the International Gardens, where visitors can explore a diverse range of gardens representing different countries and regions. Each garden is meticulously designed to showcase the unique flora and landscaping styles of the respective nation, providing a fascinating and educational experience for visitors.
Another highlight is the Thai Pavilion, an elegant and traditional Thai-style pavilion surrounded by beautiful lotus ponds. This iconic structure serves as a symbol of Thai identity and is a popular spot for visitors to take photographs and enjoy the tranquil surroundings. Royal Park Rajapruek is also well-known for hosting the Royal Flora Ratchaphruek Expo in 2006, a grand international horticultural exposition held in celebration of King Bhumibol's 60th anniversary of accession to the throne. The expo attracted millions of visitors from around the world and left a lasting legacy, with many of the stunning displays and gardens preserved as part of the permanent park. Visiting Royal Park Rajapruek offers a wonderful opportunity to immerse oneself in the beauty of nature and horticulture while learning about Thailand's rich cultural heritage. The park's well-maintained gardens, breathtaking landscapes, and peaceful ambiance make it a must-visit destination for anyone exploring the charms of Chiang Mai.
Hinoki Land:
Hinoki Land is a remarkable Japanese architectural tourist attraction, proudly being the first and only hinoki wood kingdom in Thailand. Situated on a vast 83 rai area, this enchanting destination has been meticulously crafted to encapsulate the essence of Japanese art, culture, and architecture, providing travelers with an immersive experience in a stunning Japanese ambiance. The Kingdom of Hinoki Land boasts an array of captivating buildings, each carefully designed to evoke the rich heritage and aesthetic beauty of Japan. Welcoming visitors at the entrance is a grand red lantern arch inscribed with Japanese characters symbolizing "good luck." Upon passing through the gate, guests are greeted by a tunnel adorned with 88 pairs of torii gates, leading them towards the magnificent Hinoki Castle.
The focal point of the attraction, Hinoki Castle, stands as a majestic four-story structure constructed entirely from hinoki pine wood. This noble and sacred wood from Japan adds a sense of authenticity and elegance to the castle, inspired by the iconic Kinkakuji Castle, also known as the Golden Castle, in Kyoto. The attention to detail and craftsmanship exemplified in the construction of Hinoki Castle pays homage to the architectural marvels of Japan's historical landmarks. Beyond the architectural wonders, visitors to Hinoki Land are treated to a picturesque natural setting surrounded by mountains, forests, and breathtaking scenery. The combination of Japanese-inspired buildings and the serene ambiance of the landscape creates an unforgettable experience, allowing travelers to immerse themselves in the captivating charm of Japan right in the heart of Thailand. Hinoki Land presents a unique opportunity for tourists to appreciate the beauty of Japanese architecture and culture while reveling in the tranquility of the surrounding nature. For those seeking an authentic and enchanting Japanese experience in Thailand, Hinoki Land promises a journey filled with wonder and delight.
Tha Phae Gate:
Tha Phae Gate is an iconic historical landmark and one of the most significant cultural symbols in Chiang Mai, Thailand. Located in the heart of the city, Tha Phae Gate is a remnant of the ancient city walls and fortifications that once encircled the old city of Chiang Mai. The gate's construction dates back to the 13th century, during the reign of King Mangrai, the founder of the Lanna Kingdom. It served as a crucial entry point to the fortified city, facilitating trade and protecting the city's inhabitants from potential threats. Over the centuries, the gate has undergone several renovations and restorations, preserving its historical significance and allowing visitors to witness a tangible piece of Chiang Mai's past. Today, Tha Phae Gate stands as a cherished symbol of the city's enduring history and cultural legacy. Beyond its historical importance, Tha Phae Gate has become a vibrant and bustling area, particularly in the evenings. The adjacent Tha Phae Road is lined with shops, restaurants, cafes, and lively markets, making it a popular gathering spot for locals and tourists alike. During certain festivals and celebrations, the gate becomes a focal point for cultural events and parades, adding to its significance as a dynamic and lively part of Chiang Mai's modern life. For travelers exploring Chiang Mai, a visit to Tha Phae Gate is a must. It not only offers a glimpse into the city's past but also provides an opportunity to experience the vibrant atmosphere and charm that makes Chiang Mai a beloved destination for visitors from around the world.
Tha Phae Walking Street:
Tha Phae Walking Street is a vibrant and bustling market that takes place every Sunday evening on Tha Phae Road in Chiang Mai, Thailand. This lively and colorful event is a popular attraction for both locals and tourists, drawing crowds to experience the lively atmosphere and indulge in a diverse array of shopping, food, and cultural delights. Starting in the late afternoon and continuing until late at night, Tha Phae Walking Street transforms the road into a pedestrian-only zone, allowing visitors to stroll leisurely and explore the various stalls and vendors that line the street. The market offers a wide range of products, including handcrafted souvenirs, traditional Thai handicrafts, clothing, accessories, artwork, home décor, and much more. It's an ideal place for souvenir shopping and finding unique gifts to take back home. One of the highlights of Tha Phae Walking Street is the delectable street food. A vast array of stalls offer an extensive selection of local Thai delicacies, as well as international cuisines, catering to all taste preferences. From classic Pad Thai to mouthwatering grilled skewers, fresh fruit shakes, and delicious desserts, the market is a food lover's paradise.
Alongside the shopping and dining experiences, Tha Phae Walking Street also showcases cultural performances and live music, adding to the festive atmosphere. Visitors can enjoy traditional Thai dances, music, and other performances that celebrate the rich heritage and cultural diversity of Chiang Mai. Tha Phae Walking Street is not only a shopping destination but also a cultural experience, providing an immersive glimpse into the local way of life. It's a fantastic place to mingle with locals, savor authentic Thai street food, and witness the vibrant spirit of Chiang Mai come alive. For travelers visiting Chiang Mai, exploring Tha Phae Walking Street on a Sunday evening is a must-do activity. The market offers an enchanting blend of shopping, food, culture, and entertainment, making it an unforgettable experience that showcases the true essence of this charming city in Northern Thailand.
Suan Son Bo Kaeo:
Suan Son Bo Kaeo is a captivating botanical garden situated in Bo Luang Sub District, Hot District, Chiang Mai, positioned conveniently between the Hot District and Mae Sariang District routes. This innovative plot serves as an experimental site for cultivating various plants, including pines and eucalyptus, sourced from different countries. The initiative is led by the National Park Service, with the aim of identifying suitable species for reforestation efforts in the northern mountain regions. As visitors approach Suan Son Bo Kaeo, they are greeted by an impressive sight of thousands of pine trees neatly aligned in beautiful rows on both sides of the road. The picturesque landscape creates a mesmerizing visual spectacle, offering a perfect opportunity for travelers to capture unforgettable photographs. The garden's significance lies in its role as an experimental ground, where scientists and researchers work to find ideal species for seedlings that can be cultivated in the region's degraded forest areas. This vital work contributes to the preservation and restoration of the natural environment, making Suan Son Bo Kaeo a crucial center for ecological conservation. Beyond its scientific importance, the garden also offers a serene and picturesque ambiance, making it an ideal stop for visitors traveling to other nearby attractions. The tranquil setting provides a refreshing break for travelers to immerse themselves in the beauty of nature and enjoy the greenery that surrounds them. For those exploring Chiang Mai and the surrounding regions, Suan Son Bo Kaeo presents a unique opportunity to witness the efforts being made in ecological preservation while indulging in the enchanting landscapes and capturing beautiful memories of this captivating destination.