Situated in the lower northern region of Thailand, Phetchabun Province boasts a diverse landscape characterized by flat terrain interspersed with towering mountains. The crucial Pa Sak River, originating from Loei Province and traversing Phetchabun from north to south, contributes to the region's rich natural resources. This province is a haven for travelers, featuring enticing destinations such as Khao Kho, Phu Hin Rong Kla National Park, and Thung Salaeng Luang National Park. Among these, Phu Thap Buek stands out as the highest peak, captivating adventurers with the opportunity to set up tents, bask in the morning light, and slumber under a starlit sky amidst breathtaking mountain vistas and expanses of mist. The journey to Phu Thap Buek is adorned with highlights, including vast cabbage fields cultivated by hill tribes and the remarkable Wat Phra That Pha Sorn Kaew. This temple is renowned for its five overlapping white Buddha sculptures, creating a majestic presence against the mountain backdrop. For history enthusiasts, Phetchabun offers the UNESCO-listed Si Thep Historical Park, recognized as a World Heritage Site on September 19, 2023.
Located approximately 356 kilometers from Bangkok, Phetchabun Province covers an extensive area of around 12,668 square kilometers. It shares borders with Loei Province, Chaiyaphum Province, Khon Kaen Province, Lopburi Province, Phitsanulok Province, Phichit Province, and Nakhon Sawan Province. The province is administratively divided into 11 districts: Mueang Phetchabun, Lom Sak, Wichian Buri, Nong Phai, Chon Daen, Bueng Sam Phan, Si Thep, Lom Kao, Wang Pong, Khao Kho, and Nam Nao. For travelers seeking majestic views, breathtaking beauty, and a glimpse into rich culture, Phetchabun Province promises an unforgettable experience.
Khao Kho Windmill Field:
Khao Kho Windmill Field, situated in Phet Dam Village, Thung Samo Subdistrict, Khao Kho District, Phetchabun Province, is an expansive project harnessing energy through 24 large windmills spread across approximately 138 acres. Perched on a hill at an elevation of 1,050 meters above sea level, these impressive wind turbines, towering at 110 meters, create a striking landscape visible from Khao Kho Subdistrict and Khaem Son Subdistrict. Visitors can immerse themselves in the project through a tram tour, available for a fee of 40 baht per person. The tram journey includes stops at viewpoints, allowing travelers to capture the breathtaking mountain panoramas and the picturesque windmill fields. Surrounding the windmill fields are vibrant winter flowers and strawberry farms, offering an additional layer of scenic beauty for visitors to relish.
Nam Nao Canyon:
Nestled in Khok Mon Subdistrict, Nam Nao District, Phetchabun Province, the Nam Nao Canyon is a natural wonder crafted by the hands of time. This geological marvel is distinguished by expansive rock cliffs, forming large semicircular structures plunging more than 300 meters into the depths below. The canyon is enveloped by verdant forests, creating a picturesque setting. Visitors to Nam Nao Canyon are treated to a breathtaking viewpoint, offering a panoramic spectacle of the majestic curved rock cliffs. Additionally, a waterfall gracefully flows from the crevices of the rocks, cascading into a tranquil pool below. The harmonious blend of natural elements, from the towering cliffs to the lush surroundings and the soothing sound of cascading water, makes Nam Nao Canyon a must-visit destination for tourists exploring the beauty of Phetchabun Province.
Wat Phra That Pha Sorn Kaew:
Wat Phra That Pha Sorn Kaew, located in Khaem Son Subdistrict, Khao Kho District, Phetchabun Province, stands as a serene haven amidst nature and towering mountains. The hallmark of this temple is the striking arrangement of chapels adorned with five white Buddha statues arranged in cascading rows that can be seen from afar. The Phra That Pha Sorn Kaew Chedi Sirirat Thamnaruemit, the pagoda, is a masterpiece adorned with intricately colored tiles, jewelry, necklaces, bracelets, bowls, and Benjarong utensils. Beyond the temple's grandeur, the surrounding area offers stunning viewpoints that stretch to the horizon, providing travelers with an opportunity to admire the vast and captivating landscapes.
Huai Tong Bridge:
Huai Tong Bridge, also known as Pho Khun Pha Mueang Bridge, stands as a captivating landmark that beckons every traveler exploring Phetchabun province. This iconic bridge serves as a vital link between the northern and northeastern regions, seamlessly connecting Phetchabun Province to the northeastern provinces of Chaiyaphum and Loei. Comprising reinforced concrete and featuring the highest piers in Thailand, Huai Tong Bridge boasts a structural marvel set against a backdrop of lush forests and towering mountains. The surrounding ambiance is nothing short of enchanting, offering a scenic panorama for travelers to savor. As you gaze down from the bridge, the pillars gracefully line the river below, adding to the picturesque allure. The meandering road leading to the bridge may be winding and at times challenging, making Huai Tong Bridge an ideal spot to take a breather. Pause, rejuvenate, and immerse yourself in the breathtaking scenery before embarking on the remainder of your journey. This unique bridge not only serves as a practical connection between regions but also as a must-visit destination for those seeking both architectural wonders and the tranquility of nature in Phetchabun Province.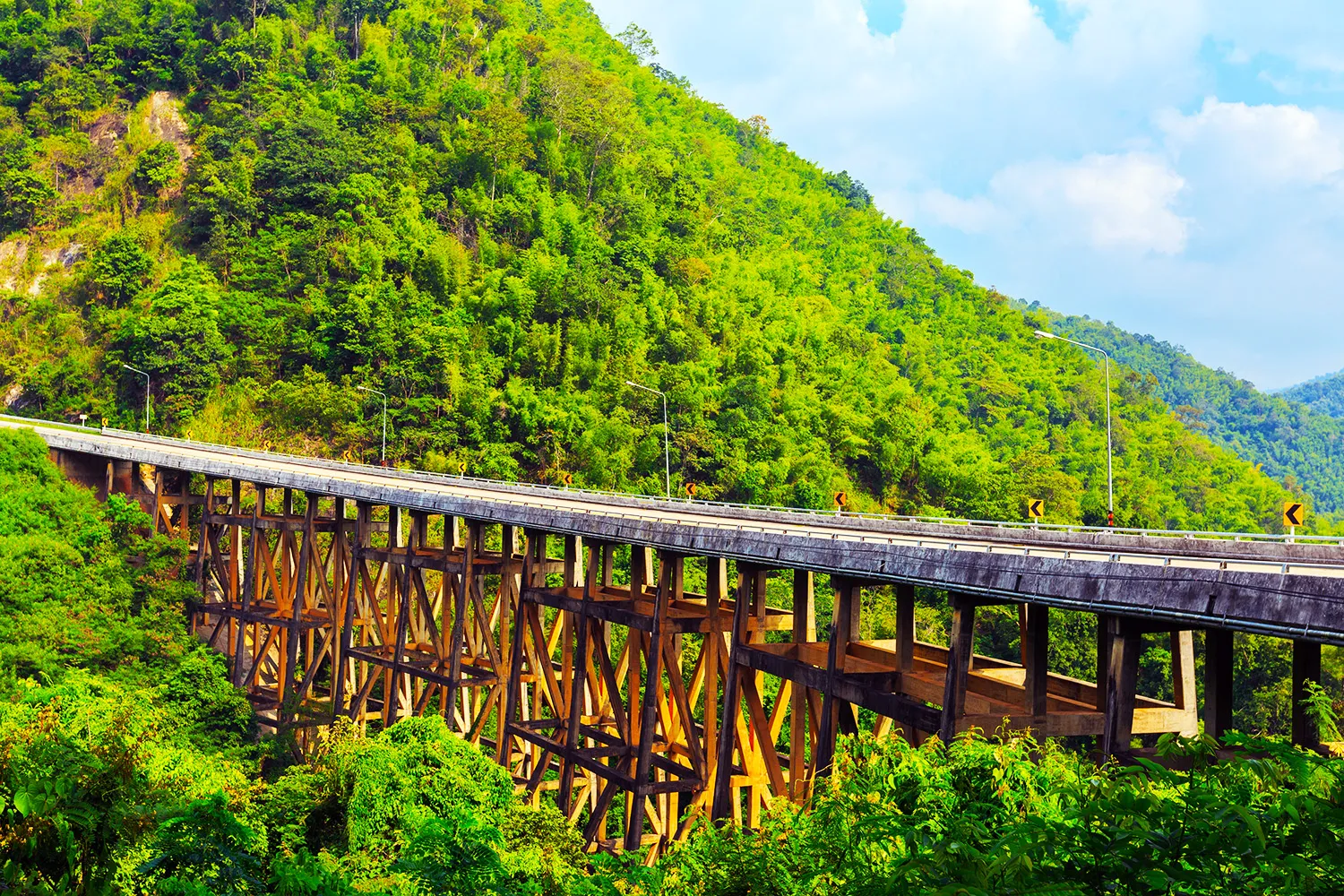 Phu Thap Buek:
Phu Thap Buek, nestled in Wang Ban Subdistrict, Lom Kao District, Phetchabun Province, proudly stands as the highest peak in the region, soaring to an impressive height of approximately 1,768 meters above sea level. Blessed with a cool climate year-round, this majestic terrain is encircled by steep mountains, creating an expansive vista that captivates the senses. The panoramic views are truly breathtaking, making it a destination of unparalleled beauty. While Phu Thap Buek is accessible throughout the year, the winter months hold a special allure for most visitors. December and January, in particular, offer a magical experience as the cold season unveils the most enchanting sea of mist. During this period, tourists are treated to the delicate beauty of Thailand's cherry blossoms and the pink Nang Phaya Suea Krong flowers that blanket the mountain slopes. This seasonal spectacle has earned Phu Thap Buek a reputation as one of Thailand's most romantic tourist attractions. As night falls on Phu Thap Buek, the landscape transforms, revealing a mesmerizing display of twinkling lights emanating from the villages below in Lom Sak District. This celestial scene is often likened to stars on Earth, creating a celestial ambiance that adds to the allure of the mountain. Adding to the charm of Phu Thap Buek is its role as a home to a village of the Hmong Hill tribe. Engaged primarily in agriculture, they cultivate vast fields of cabbage, creating a striking pattern that blankets the mountain peaks for as far as the eye can see. This harmonious blend of natural beauty and cultural richness makes Phu Thap Buek an unmissable destination for those seeking a unique and unforgettable experience in Phetchabun Province.
Sri Dit Waterfall:
Sri Dit Waterfall is situated in Nong Mae Na Subdistrict, Khao Kho District, Phetchabun Province. This impressive waterfall stands out with its single-tiered structure, boasting both height and width spanning several meters. The water gracefully cascades down a cliff, forming a mesmerizing curtain-like effect as it descends into the pool below. The natural beauty of the surroundings, characterized by the perpetual flow of water and the lush forest canopy, creates a serene and relaxing atmosphere. Sri Dit Waterfall is rightfully regarded as a stunning natural attraction in Khao Kho District. Accessing the waterfall is convenient, as it can be reached by various types of vehicles, and the journey is feasible in all seasons. This accessibility makes Sri Dit Waterfall an inviting destination for nature enthusiasts and those seeking a tranquil retreat amidst the scenic landscapes of Phetchabun Province.
Si Thep Historical Park:
Situated in Si Thep District, Phetchabun Province, Si Thep Historical Park encompasses approximately 4.7 square kilometers and achieved UNESCO World Heritage Site status on September 19, 2023. It holds profound significance in the historical tapestry of Thailand, serving as a testament to continuous human habitation dating back to prehistoric times. Witnessing the flourishing Dvaravati and Khmer cultures for over 800 years, the site eventually saw abandonment in the late 13th or early 14th century, preceding the ascendancy of Sukhothai and Ayutthaya cultures. Si Thep Historical Park is an expansive complex comprising a large ancient community and a cluster of pivotal historical sites distinguished by their art, architecture, religious, and cultural significance. Key among these sites is Khao Klang Nai, a substantial religious site rooted in Dvaravati culture, constructed during the initial city-building period around the 12th century. Khao Klang Nok, another religious site, features a large stupa from the Dvaravati culture with a well-preserved, square laterite base, likely contemporary with Khao Khlang Nai, making it the largest and most intact religious site of its time. Prang Song Phi Nong, an exemplar of Khmer architecture, consists of two brick castles on the same laterite base facing west. Though the upper portions have collapsed, one still retains a decorated sandstone lintel. Prang Si Thep, another Khmer-inspired structure, presents itself as a brick castle on a substantial laterite base facing west, aligned with Prang Song Phi Nong. The park also features numerous ponds, with Sa Khwan standing out as a large and significant body of water situated at the heart of the historical site. Altogether, Si Thep Historical Park is a captivating journey through time, offering a glimpse into the rich cultural and architectural heritage of the region.
Nam Nao National Park:
Nam Nao National Park sprawls across approximately 966 square kilometers, reaching elevations of around 1,200 meters above sea level. Encompassing parts of Lom Kao District, Lom Sak District, Nam Nao District in Phetchabun Province, and Khon San District in Chaiyaphum Province, this park is a haven of high mountain ranges, teeming forests, diverse wildlife, and a plethora of bird species. It serves as a crucial water source for several rivers including the Pa Sak River, the Phong River, and the Loei River. The climate tends to be pleasantly cool for most of the year, with an average temperature hovering around 25 degrees Celsius. Rainfall is abundant between September and October during the rainy season. In winter, temperatures drop significantly, sometimes causing dew to transform into ice crystals, especially during December and January. The park offers an array of captivating attractions. The Tham Pha Hong Viewpoint is an ideal spot to catch stunning sunsets with its panoramic vista. Phu Kho Viewpoint is equally captivating, particularly during winter, showcasing a mesmerizing sea of mist and sunrise. Suan Son Ban Paek features a naturally grown two-leaf pine forest interspersed with stunning meadows. Meanwhile, Suan Son Phu Kum Khao presents a forest of three-leaved pine trees sprawling across several square kilometers, creating a breathtaking expanse when viewed from Phu Kum Khao Hill. Sai Thong Waterfall, spanning approximately 30 meters in width and 4 meters in height, offers a tranquil setting for relaxation amidst a shaded ambiance. Additionally, the forest undergoes a striking transformation, shedding leaves and changing colors between December and January, creating a naturally beautiful spectacle. Visitors need to pay an entrance fee of 400 Thai baht for adults and 200 Thai baht for children when visiting Nam Nao National Park. Those planning an overnight stay should contact the Department of National Parks, Wildlife, and Plant Conservation for accommodations and further details through their website www.dnp.go.th