Phitsanulok, a captivating province in northern Thailand, beckons travelers with its rich historical heritage and an array of natural wonders. The province boasts an assortment of attractions that enthrall visitors, making it a destination worth exploring. One of Phitsanulok's remarkable aspects is its wealth of natural beauty. The province is adorned with picturesque landscapes, including scenic mountains, serene rivers, and lush greenery. Nature enthusiasts find solace in the tranquility and beauty that abounds here. Phitsanulok is steeped in history, with a plethora of temples and ancient sites dotting the region. These cultural landmarks hold intriguing stories from the past, offering glimpses into the province's illustrious history and ancient traditions. The province's rich cultural heritage is reflected in its temples, each adorned with captivating architecture and intricate designs. These sacred sites invite travelers to immerse themselves in the spiritual and cultural richness of the region. One of Phitsanulok's greatest treasures lies in the warmth and friendliness of its people. The locals extend a warm welcome to travelers, sharing their genuine hospitality and making visitors feel at home. Exploring Phitsanulok allows travelers to delve into the heart of northern Thailand's captivating charm. The province's blend of historical significance, natural beauty, and warm hospitality creates an irresistible allure that captivates and fascinates those who venture here. Whether seeking a journey through history, a communion with nature, or an immersion in local culture, Phitsanulok offers an enriching and memorable experience for all who visit.
Phu Hin Rong Kla National Park:
Phu Hin Rong Kla National Park is a vast and captivating natural wonder that stretches from Dan Sai District, Loei Province, to Nakhon Thai District, Phitsanulok Province, covering an expansive area of 307 square kilometers. Situated at an altitude of approximately 1,600 meters above sea level, the park boasts cool weather throughout the year, making it a delightful retreat for travelers seeking respite from the heat. The park's topography is characterized by a complex mountain range adorned with fertile forests, which serve as the source of numerous rivers and streams. Within this diverse landscape, visitors will find an array of interesting natural attractions, including breathtaking waterfalls, scenic viewpoints, and peculiar rock terraces shaped like gnarled rocks rising over vast areas. These rock formations are believed to be the result of rock erosion, sculpted by the forces of rain and wind over time. A highlight not to be missed is the Lan Hin Pum-Pha Chu Thong nature trail, where tourists can comfortably explore the park's wonders. The trail is well-marked, leading visitors through a scenic route dotted with a variety of natural plants, wildflowers, and beautifully arranged large rocks created by Mother Nature herself.
The Phu Hin Rong Kla Royal Forest Development Project within the park is another attraction worth visiting. Numerous viewpoints in the project offer awe-inspiring vistas of the surrounding landscape. In winter, the area is adorned with colorful winter flowers in full bloom, providing a visual feast for visitors. Adding to its allure, Phu Hin Rong Kla National Park is steeped in historical significance. It served as a significant stronghold of the Communist Party of Thailand in the past, resulting in various historical attractions, such as the Battle Museum, Political-Military School, Multipurpose Field, and Mass Village. These historical sites offer insights into the ideological and political conflicts of that era, serving as valuable records for future generations to study and learn from. To explore the wonders of Phu Hin Rong Kla National Park, visitors are required to pay an entrance fee: 200 baht for adults and 100 baht for children. The park offers a captivating blend of natural beauty, historical importance, and recreational activities, making it a must-visit destination for travelers seeking an enriching and memorable experience.
Thung Salaeng Luang National Park:
Thung Salaeng Luang National Park is a natural treasure nestled in Phitsanulok Province, Thailand. Covering a vast area of approximately 1,262 square kilometers, the park is renowned for its breathtaking landscapes and diverse ecosystems. One of the park's prominent features is the expansive grassland known as "Thung Salaeng Luang," which spans over 400 square kilometers. This picturesque grassland transforms its colors with the changing seasons, presenting a stunning vista of lush greenery during the rainy season and golden hues in the dry season. The grassland serves as a habitat for various wildlife, including deer, wild boar, and various bird species, making it a popular destination for wildlife enthusiasts and birdwatchers. The park's rugged terrain is dotted with rolling hills, verdant forests, and pristine streams, creating an idyllic setting for outdoor activities and nature exploration. There are numerous trekking trails that allow visitors to immerse themselves in the beauty of the natural surroundings while discovering hidden waterfalls and panoramic viewpoints.
Thung Salaeng Luang National Park is also a paradise for flora enthusiasts, as it is home to a rich variety of plant species. The blooming wildflowers during the cool season add a touch of vibrant colors to the already stunning landscapes. Camping is a popular activity within the park, offering a unique opportunity to experience the tranquility of the wilderness and the starry night skies. The park provides designated camping areas where visitors can set up tents and enjoy a night under the stars. Thung Salaeng Luang National Park offers a refreshing escape from the hustle and bustle of city life, providing a haven for nature lovers and adventure seekers alike. Whether it's trekking through the grasslands, observing wildlife, or simply basking in the serenity of nature, a visit to Thung Salaeng Luang National Park promises an unforgettable and rejuvenating experience.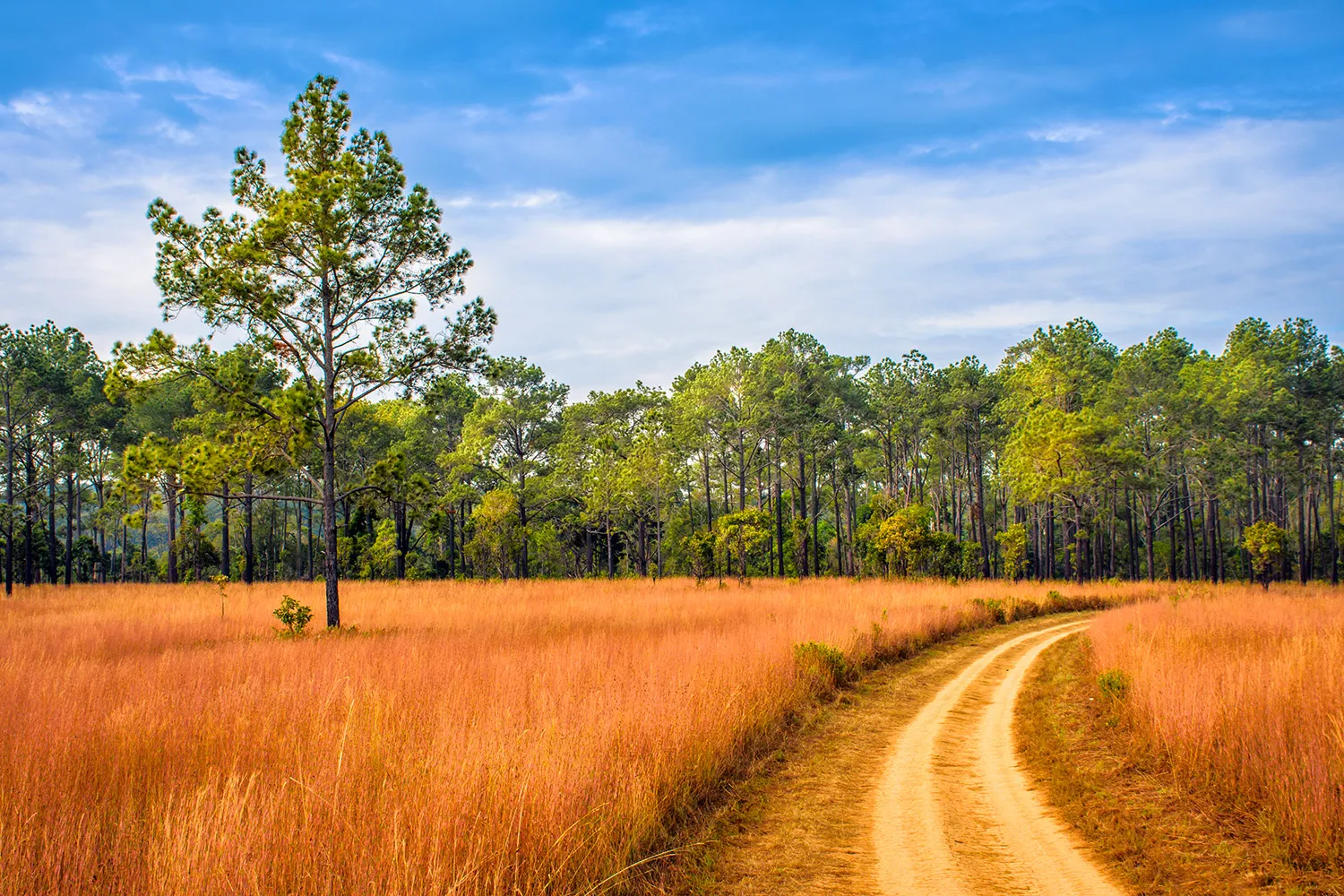 Kaeng Sopha Waterfall:
Kaeng Sopha Waterfall, dubbed "The Niagara Fall of Thailand," is a magnificent natural wonder situated in Thung Salaeng Luang National Park, in Ban Yang Subdistrict, Nakhon Thai District, Phitsanulok Province. Located along Highway No. 12, the Phitsanulok-Lom Sak Route, the waterfall is a captivating sight with its height of approximately 40 meters. It gracefully cascades on the Khek River, surrounded by lush and diverse forests. During the rainy season, when the river swells, Kaeng Sopha Waterfall exhibits its true power and grandeur. The mighty water current surges down the cliff into the basin below, generating a thunderous roar that reverberates throughout the forest. The rainy season is an impressive time to witness the waterfall in all its splendor.
As the rainy season comes to a close and winter begins, the water level recedes, causing the waterfall's force to lessen, revealing a picturesque, gently cascading waterfall. This period is considered the best time to visit Kaeng Sopha Waterfall. Additionally, the surrounding forest transforms, as the leaves change color, creating a mesmerizing landscape with vibrant hues, providing a memorable and captivating experience for visitors. Kaeng Sopha Waterfall is open daily from 8:00 a.m. to 5:00 p.m., inviting tourists to explore its natural beauty. The entrance fee for visitors is 200 baht per person. With its stunning setting and breathtaking views, Kaeng Sopha Waterfall offers an enchanting and unforgettable adventure for all nature lovers and travelers seeking to immerse themselves in the wonders of Thailand's natural beauty.
Namtok Poi Waterfall:
Poi Waterfall, situated in the Khao Krayang Forest Park, Kaeng Sopha Sub-district, Wang Thong District, Phitsanulok Province, along Highway No. 12, Phitsanulok-Lom Sak Route, offers a stunning natural retreat for visitors. The journey to the waterfall is convenient, with a well-maintained road that allows easy travel by vehicle. This captivating waterfall spans the Khek River, boasting a width of around 200 meters and a height of approximately 10 meters. The surrounding landscape is adorned with a lush canopy of trees, creating a serene and shaded ambiance, perfect for relaxation and unwinding. During the rainy season, Poi Waterfall showcases its impressive power, as strong currents rush down, cascading into the inviting pools below. The roar of the water echoes throughout the area, providing an exhilarating experience for visitors. In contrast, the water currents during winter and summer are gentler, revealing clear and inviting pools and enchanting islets where travelers can indulge in swimming and leisure activities. Beyond enjoying the majestic waterfall and the picturesque scenery, visitors can also partake in various activities offered by the local villagers. Nature trails, cycling routes, and rafting adventures are among the exciting opportunities for travelers seeking to immerse themselves in the beauty of nature. Additionally, the area provides accommodations and restaurants to cater to the needs of tourists, ensuring a comfortable and memorable experience for all who visit Poi Waterfall and the Khao Krayang Forest Park.
Ban Rong Kla Village:
Ban Rong Kla Village, nestled within the Phu Hin Rong Kla National Park, is a charming Hmong hill tribe community located in the Noen Phoem Sub-district, Nakhon Thai District, Phitsanulok Province. The village boasts a unique culture and traditions, offering visitors an opportunity to immerse themselves in the rich heritage of the Hmong people. Agriculture is the primary livelihood for the villagers, with a focus on cultivating winter vegetables and fruits such as cabbage, carrots, strawberries, radishes, and more. The village's location in the valleys of the plateau provides a cool climate throughout the year, but it becomes particularly cold during the winter months, especially from December to January.
The best time to visit Ban Rong Kla Village is during the winter season, as this is when the enchanting Nang Phaya Sua Krong flower, also known as Wild Himalayan Cherry, blooms all over the village. The delicate pink hue of the Nang Phaya Sua Krong flowers creates a stunning contrast with the surrounding landscape, transforming the village into a picturesque and breathtaking sight. The collaborative efforts of the villagers in planting and nurturing these flowers result in Ban Rong Kla Village becoming an extraordinary and ethereal destination during the flowering season. The beauty of the blooming Nang Phaya Sua Krong flowers adds a touch of magic to the already captivating charm of the Hmong hill tribe community, making Ban Rong Kla Village a truly unforgettable place to visit.
Wat Phra Si Rattana Mahathat Woramahawihan:
Nestled gracefully along Phuttha Bucha Road in the heart of Nai Mueang Sub-district, Mueang District, Phitsanulok Province, stands the revered Wat Phra Si Rattana Mahathat Woramahawihan, affectionately known as Wat Yai. This sacred temple holds an enduring significance that has woven itself into the tapestry of Phitsanulok's history, embodying a legacy of splendid architecture and intricate sculptures—a true cultural treasure trove. At the heart of Wat Phra Si Rattana Mahathat lies the resplendent Viharn Luang, a sanctified space enshrining the revered Phra Buddha Chinnarat. This bronze Buddha image, poised in the posture of subduing Mara, is celebrated as Thailand's pinnacle of beauty—a radiant embodiment of tranquility. It holds profound importance, serving as a beacon of devotion for the people of Phitsanulok.
Dominating the temple's central expanse is the majestic Phra Prang, soaring to a towering height of 30 meters. Its grandeur captures the imagination, a testament to the artistic mastery of a bygone era. Nearby, the Wihan Phra Attharot stands in silent reverence. Within its embrace, the towering Phra Attharot, a noble standing Buddha image reaching approximately 10 meters in height, exudes an aura of serenity. It stands as a companion to Phra Buddha Chinnarat, both crafted during the same era—an artistic legacy that transcends time. Yet, amid the splendor, the passage of time has left its mark. The original viharn, once a guardian of these treasures, has succumbed to the ages, leaving only the stoic remnants of 3–4 laterite pillars as testament to its former glory. Wat Phra Si Rattana Mahathat Woramahawihan extends a warm embrace to visitors and worshippers, its gates open from 6:00 a.m. to 6:00 p.m. each day. As travelers venture into its sacred domain, a gentle reminder adorns the journey a call to dress modestly, a gesture of respect befitting the hallowed grounds.
Wat Chan Tawan Tok Temple:
Wat Chan Tawan Tok Temple, located near the Nan River and Suphan Kanlaya Bridge in Wat Chan Sub-district, Mueang Phitsanulok District, Phitsanulok Province, is an ancient temple renowned for its splendid architecture and cultural significance. One of the key attractions within the temple complex is the cathedral-like Somdet Ong Phra Prathom Maha Viharn. Inside this viharn, visitors can find the revered Buddha image of Somdet Ong Prathom in the subduing Mara posture. This Buddha image holds immense significance to the local community and is highly venerated. In addition to the main viharn, the temple also houses the prominent Luang Pho Thong Laima, a large standing Buddha image depicted in the posture of holding an alms bowl, which is enshrined outdoors. Behind the viharn, visitors can find the Phra Phuttha Chedi Sra Luang, a stupa that houses the Lord Buddha's relics. This sacred site adds to the spiritual and cultural significance of Wat Chan Tawan Tok Temple. Across the Nan River, travelers can find another temple named Wat Chan Tawan Ook. This temple also features an ubosot (ordination hall) and pavilion, showcasing delicate and beautiful architectural details. Both Wat Chan Tawan Tok and Wat Chan Tawan Ook Temples are open daily for visitors from 8:00 a.m. to 6:00 p.m. The opportunity to visit these two temples presents a chance to explore the rich cultural heritage and spiritual traditions of Phitsanulok Province. For those interested in immersing themselves in the beauty of ancient Thai temples and experiencing the local traditions and architecture, a visit to Wat Chan Tawan Tok Temple and its neighboring Wat Chan Tawan Ook is highly recommended.