Chiang Mai, an ancient city, stands as a bastion of Lanna civilization and is recognized as one of Thailand's most culturally vibrant and spiritually significant metropolises. The way of life embraced by the people of Chiang Mai, spanning from ancient times to the present, has helped shape traditional beliefs concerning ghosts, ancestors, spirituality, and Buddhist philosophy. These elements have coalesced to form a distinctive local identity that reverberates through various traditions and festivals. These events are celebrated annually and have grown to achieve worldwide fame, consistently drawing travelers from all corners of the globe to Chiang Mai. The grandeur of the parades, the rich tapestry of cultures and traditions, and the kaleidoscope of vibrant festival colors all combine to create indelible memories that will stay with you forever.
Yi Peng Festival (Loy Krathong Festival):
Chiang Mai Province is renowned for hosting the largest and most vibrant Yi Peng traditional celebrations in the country, a highlight of the Loy Krathong festival in November. Travelers are treated to a mesmerizing display of sky lanterns, making it one of the most spectacular and beautiful events in Thailand. During these festivities, visitors can witness the breathtaking Yi Peng lantern procession, Krathong parades, and a dazzling fireworks display. The event also features a Krathong contest, the Miss Noppamas contest, and a showcase of various cultural performances. The processions are nothing short of grand and spectacular, with the streets adorned with colorful lanterns, while the sky and water are adorned with an array of vibrant lights and floating lanterns. This captivating spectacle etches itself into the memories of all who experience it, leaving an indelible impression.
Flower Festival:
The Flower and Ornamental Plant Festival is another significant traditional event held annually in Chiang Mai Province. Taking place every February at Nong Buak Hat Public Park, located in Mueang Chiang Mai District, this festival offers a vibrant showcase of horticulture and agriculture. The event features an agricultural exhibition, gardening contests highlighting various types of flowers and ornamental plants, and a fair organized by the farmer's housewives' group. It also includes musical performances in the garden. A highlight of the festival is the spectacular flower float parade, an activity not to be missed. During this parade, you can witness the dazzling Miss Flowers and Miss International Flowers contests. The procession itself is a magnificent sight, with a long line of floats adorned with colorful flowers. Local musical instruments provide a continuous backdrop of melodious tunes, while graceful Northern dances add an elegant touch to the spectacle. Local residents often join in, dressing in traditional costumes, making this event an unforgettable experience.
Songkran Festival:
The Songkran festival is yet another cherished tradition that has bestowed Chiang Mai with widespread recognition. People from across the globe flock to the city to partake in this jubilant event, much like other celebrated festivals. Songkran is held annually during the Songkran holiday, spanning from the 13th to the 15th of April. Over these three days, the streets of Chiang Mai come alive with people of all ages, locals and foreigners alike, venturing out to engage in joyous water fights and merrymaking. The festivities also include a captivating Miss Songkran parade, the construction of sand pagodas at various temples, the traditional act of pouring water to seek blessings from elders, and a momentous activity—the ceremonial bathing of Phra Phuttha Sihing. This revered Buddha image holds great significance for the people of Chiang Mai and is paraded from Wat Phra Singh Woramahaviharn on Songkran Day, a momentous occasion for all who witness it.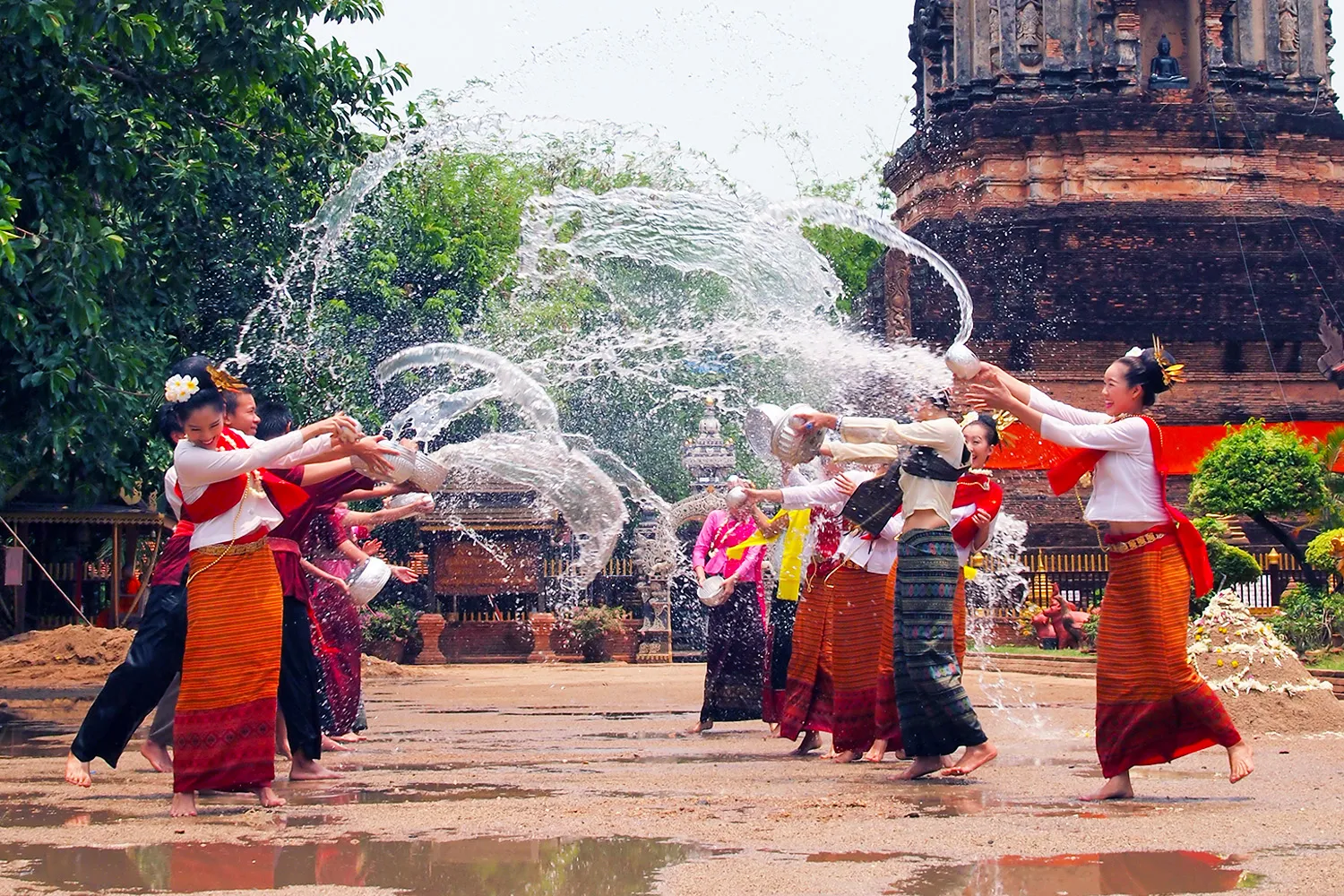 Chinese New Year:
The Chinese New Year celebrations in Chiang Mai take place in the vicinity of Lao Zhou Alley and Warorot Market, situated in Mueang Chiang Mai District. This vibrant celebration occurs during the Chinese New Year, typically at the end of January or the beginning of February. The event is a collaborative effort organized by Chiang Mai Municipality and the Thai-Chinese community in Chiang Mai, dedicated to commemorating the Chinese New Year. The festivities include an array of stalls and elaborate Chinese lantern decorations. Attendees can enjoy engaging Chinese cultural performances, the Miss Chiang Mai Chinatown contest, and a rich variety of delectable Chinese cuisine. Prominent Chinese restaurants in Chiang Mai participate, offering an abundance of flavors for tourists to savor. This celebration serves as a lively and culturally enriching experience for all who take part in it.
Bo Sang Umbrella Festival:
Bo Sang umbrellas represent another renowned local product from Chiang Mai. The Bo Sang Umbrella Festival is an annual celebration that takes place at the Bo Sang Umbrella Village, located in San Kamphaeng District. This vibrant event, held in January, is a lively walking street affair where booths and houses are adorned with a profusion of colorful local umbrellas. Spanning more than a kilometer from the entrance to the end of the street, the festival offers a visual feast of creativity and craftsmanship. One of the highlights of the event is the procession of umbrella-decorated cars parading along the streets of Bo Sang Village. Visitors can also look forward to a Bo Sang beauty pageant and a plethora of rare folk cultural performances. The festival serves as a delightful showcase of the artistry and cultural richness associated with Bo Sang umbrellas, offering an unforgettable experience for all who attend.